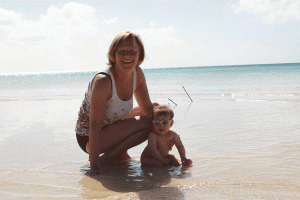 My goal is to help you to create the most successful vacation rental business you could possibly imagine. Whether you own a single property or are a property manager with several or even hundreds of vacation homes, let me help you be the best.
I'm passionate about this business. Probably because I've been there and done it. Six times in all.
So where did it all start?
It all started with a stunning sunset, a large gin and tonic and a vision of investing in property and running a successful vacation rental business. And many years later life has never been better.
Back in 1998 Ontario cottage rentals were basic. Really basic. Mouse poop came as standard and an indoor toilet was a luxury. And the water access cabin we rented for our trip to a family wedding had both the standard offerings and that bit of luxury. And it was the best vacation ever.
On the last evening, my sister and I took a drink out to a rock and sat and watched the sunset, and decided we could do it better. Six weeks later I flew back to Canada and bought my first cottage. The rest is history.
I learnt more from each property I bought; how to create a better experience for guests; new ways of marketing and strategies for boosting occupancy.
And that's how I help individual owners and property managers achieve great success with their vacation rental businesses.