As with anyone working in the online space I am very easy to get hold off on multiple different mediums. So please use the method you like best and that you feel most comfortable with.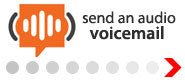 1. Voicemail
This link will take you to the voice mail app I use for my podcast. Just make sure your microphone is plugged in and working before starting to record your message ;o)

2. Twitter
I am active on my twitter account pretty much daily. So send me a direct message or simply give me a shout out when you follow me.

3. Facebook
Again I am active daily on Facebook. Send me a friend request and we can converse in a Facebook message or two.

4. Google+
I am still getting to grips with Google+ but have seen some great success with effective communication. Add me to your circles and send me a message there.

5. Email
The good old fashioned way is sometimes not always the best. I do receive many emails on a daily basis from many businesses and will try to get back to yours as soon as possible.